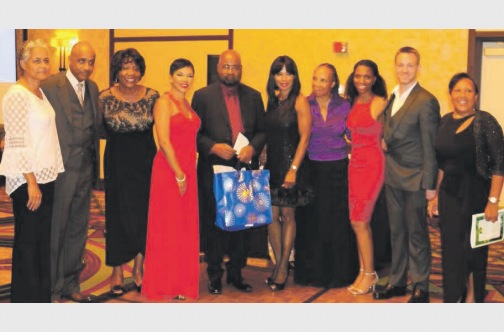 The Jamaica Awareness Association of California (JAAC) is to be commended for its close to 30 years of quality work serving the needy and underprivileged, both locally and internationally, since being founded by the late David Haughton.
(A lightly edited version of a speech delivered by Jamaica's Ambassador to the United States and the Organization of American States Audrey Marks at the Jamaica Awareness Association of California (JAAC) 30th Anniversary Banquet held in Los Angeles, California on November 5.)
His legacy lives on in the inspiring work of this amazing team of volunteers led by President Yasmin Facey, and members of the executive, some of whom are founding members, such as Sharon Small, Jackie Small, Hope and Webster Bodden who are with us this evening. It is because your work has been so invaluable and meaningful that you are able to still be here, notwithstanding the challenges that I am sure you've faced over the years of your existence. Sincere congratulations on staying the course.
This evening, you are honouring some very special individuals who have provided sterling service to the organisation. Starting with Dr Laurence Weeks. Dr Weeks, I'm told that JAAC has conferred upon you the title of honorary Jamaican for your outstanding contribution in heading medical missions to our country over the past 15 years. Tonight it's my pleasure to join JAAC in honouring you and expressing our appreciation. I applaud your wonderful, selfless efforts and wish for you a very happy retirement.
For the length of time it has been established here, and for all it stands for, the JAAC is the premier Jamaican community organisation in Southern California. You are a focal point around which Jamaicans are recognized as a visible group. You provide scholarships to help so many needy students realize their goals to be productive contributors to society. You are also the premier host for events that highlight and sell our country in this part of the United States.
I want to specially thank all the doctors and members of the teams who have done so many medical missions over the years. Thank you for providing essential medical relief to some of the most needy in rural Jamaica and especially at Annotto Bay Hospital in my parish of St Mary. Your work in making Annotto Bay Hospital the premier rural hospital in Jamaica for laparoscopic surgery, as Dr Roy Fraser is here to attest, stands out as one of your most important contributions to Jamaica. We cannot laud enough the all-important role you play, and again I congratulate the organisation's executive, members and volunteers, most sincerely for all that you represent in this community and to Jamaica.
Ladies and gentlemen, Jamaica's new Government had campaigned on a slogan of partnership and prosperity. This idea is not new, but the imperative of now makes it relevant to the Jamaican situation, and the consensus is established that if Jamaica is to progress and be the country that we envision, there must be a partnership, not only among the citizens who live on our beloved island, but also with you, in the diaspora, now termed by Prime Minister Andrew Holness our common wealth.
Much has been done by the new Administration over the last eight months as the Government has continued to build its economic growth agenda on the gains that have been made by the sacrifices of Jamaicans over the last few years. A few of the impactful actions that have been taken by the GoJ include:
* 251,700 PAYE workers benefited from the July implementation of phase 1 of the Government's tax plan, which has put up to $9,000 back into some workers' pockets. Phase 2 will be implemented next April.
* The Government is now providing breakfast for all five school days for early childhood and primary school children on PATH. In addition, the Government has increased the funding to the PATH by an additional $100 million.
* The Government has made the payment of fees at the secondary level non-mandatory. Schools received the first tranche of payment from the education ministry in July, a first in our history.
* Many National Housing Trust contributors saw interest rates reduced to one per cent. Such a move enabled minimum wage earners to now become qualified for loans. For the very first time, minimum wage earners are now capable of buying their own home from the NHT.
* Tertiary students now repay their loans on the reducing balance at the Students' Loan Bureau.
I am very pleased to share these few of many initiatives being undertaken by the Government that are really, really, very, very big to our relatives and friends who are benefiting.
We are also heartened to hear both the GoJ and representatives of the financial sector expressing that the fundamentals in the economy are going in the right direction in our homeland. The economy grew 2.3 per cent, the highest single-quarter growth since 2002 and inflation is at an all-time low. Business and consumer confidence are at their highest since 2003. The agricultural sector recorded growth of 28 per cent last quarter, while the tourism sector has continued to record growth. In addition, Jamaica has been noted in the 2016 World Bank
Doing Business Report as, besides Costa Rica, the only other economy in Latin America and the Caribbean to make it to the list of 10 top improvers.
I am also pleased to share with you that our Minister of Finance and the Public Service Audley Shaw has continued a smooth transition with the inherited IMF programme and has signaled attaining fiscal containment. Minister Shaw has also recently shared that the current account deficit is now at the two per cent range, down from 10 to 11 per cent, and, importantly, there is no shortage of foreign exchange, with our Net International Reserves (NIR) now more than US$3 billion. Jamaica still has not achieved currency stability, but we are encouraged by both the Bank of Jamaica and the IMF assessing that there is now a fair market value for our exchange rate".
We still have many challenges to overcome, including our high crime rate. We continue to struggle with citizen security, which I spoke about in another forum last week. So I am very pleased to acknowledge two of your own here in California – Dr Rupert Francis, your Diaspora Alternate Advisory Board member, and Captain Peter Whittingham. We commend the team for leading the charge in the newly constituted Diaspora Crime Prevention Task Force for a diaspora response to crime prevention in Jamaica.
We have discussed the need to incorporate as part of the strategy, interventions here in the United States and I am pleased with the team's readiness to look into this approach to help address our crime problem.
I know all of us here love Jamaica and have, in various ways, contributed to its development over the years. It is that sacrifice and dedication that have assisted in laying a foundation for a new direction for our beloved country. Most important to note are the efforts to promote Jamaican culture and excellence with the aim of creating socioeconomic opportunities through cross-cultural interaction.
I was recently reading of the significant successes of Bollywood in India and Nollywood in Nigeria. So I can't leave here, Los Angeles, California, home of Hollywood, the most well-known location of America's creative industries, without making a call for talented and connected persons here in the diaspora to think of 'Jammywood'… ok, I just made up that name, and creative people will come up with a better name.
However, Bollywood, the Hindi-language part of the Indian film industry, actually has been the most successful medium for telling the Indian story; the story of its struggle to achieve national integration, for independence and its efforts to emerge as a global presence. This success has Bollywood being forecast to grow by 11 per cent annually until the 2017 financial year, swelling the industry to $2.89 billion.
The Nigerian film industry, also known as Nollywood, is going through a rebirth through efforts which the Nigerian Government has termed Project Nollyhood. As of 2014, the industry was worth US$5.1 billion, making it the third most valuable film industry in the world. The World Bank believes that Nollywood, if properly managed, could create a million more jobs in the sector.
I am now seeing an increasing amount of Indian and Nigerian TV series available, even in Jamaica… So I have a vision of 'Jammywood', you know what they say about us entrepreneurs; both entrepreneurs and persons that are sent off to asylums see and believe in imaginary things, but the big difference is entrepreneurs get others to believe in their imagined things, even when they can't see it themselves, and so they are called visionaries…
I think it's time California diaspora, for us to imagine big and start to focus on monetizing our culture. As Jamaicans we like to share our culture; our food, our music, our dance, our opinion and expertise (even when we think we know more than we really do). If you think about it, we are all ambassadors for our country and specifically its culture, which has so influenced the world stage that people are constantly amazed by our geographical size.
'Jammywood', as the seat of Jamaica's creative industry, has the potential to be a mega income-earning industry. The scope for monetization of our creative industry is especially potentially lucrative when one considers that in Hollywood there is now demand for greater recognition of diversity. Madge Sinclair, Jeff Gunther Anderson, (who is here tonight) and Sheryl Lee Ralph, among others all born in Jamaica, have brought to Hollywood their own Jamaican flavour trailblazing for others.
However, when I speak about potential for monetization, I am not just talking about becoming the next famous movie actor, but all areas of film making – directing, producing, making documentaries and other forms of storytelling. There are enough people interested in Jamaica and its culture to warrant us taking charge of our own destiny and telling our own stories the way we want to tell it, with authenticity.
The Jamaican brand is a globally recognized brand. Our music industry, including reggae, dancehall and even our movie-making potential, are recognized. Locally, we have a vibrant indigenous film and theater industry. Many of you will remember
The Harder They Come, so from Trever Rhone and Perry Henzell, to our Lenny Little White, Natalie Thompson, to one of our younger talents Storm Saulter, to name a few. We also remember fondly our local theater (plays and pantomime) with the venerable Barbara Gloudon, Louis Marriott, Basil Dawkins and many more talented playwrights.
We have dance companies and national singing groups that are amazingly talented and ready for an international audience. We must use the creative industries to transform our characteristics of uniqueness, resilience, creativity and a commitment to being the best, into real economic opportunities. The key is an active collaboration between connected members of the diaspora and our talented local creative industries community.
We can start with organizing more concert tours throughout the United States, pushing on the doors of studios right here to do more incorporating of Jamaican culture in productions involving music, dance, fashion and other areas for which we are well known including, of course, athletics.
In that vein, I am aware that work has started on a new film looking at our sprinters with a team of well-known names right here in Hollywood. It is hoped that this film could do for running films what
Raging Bull did for the boxing film and sports cinematography in general. It could also be the catalyst for 'Jammywood', with the full-enthused support of the diaspora.
In conclusion, as Jamaicans, we know whatever we put our minds to, we can achieve. It's time to monetize Brand Jamaica, 'Jammywood' is possible with hard work, an informed and strategic plan of action and people who are willing to participate, support and invest in the vision. That is why growth and job creation have been the Government's focus of the last eight months.
The Government has set an ambitious target of five per cent GDP growth in four years. This is very possible with the buy-in of the common wealth of Jamaicans, to truly make Jamaica the place of choice to work, do business, raise families and to retire, in peace and prosperity.
Source : Jamaica Observer