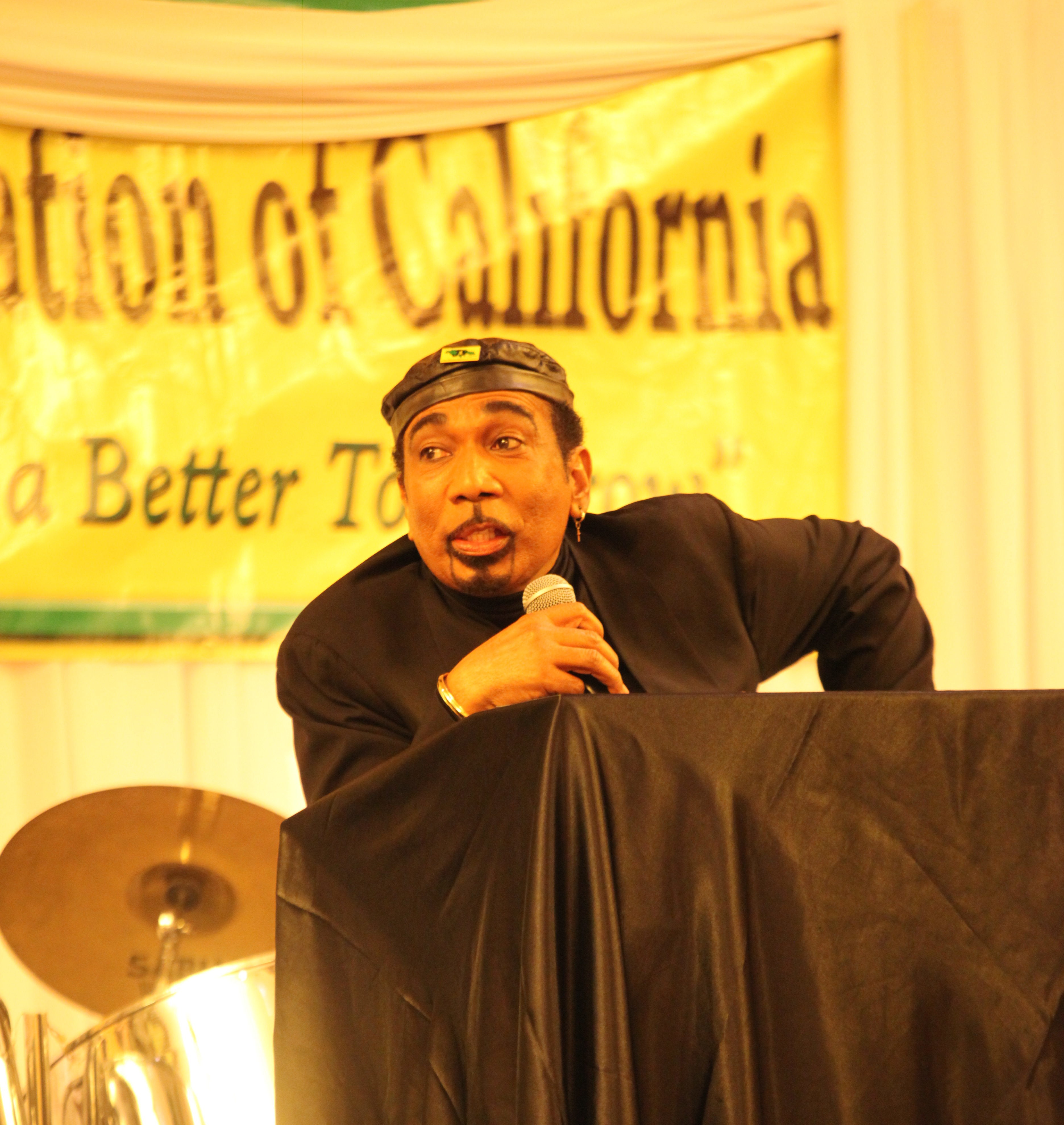 With over 300 hundred persons in attendance, this year's banquet under the theme "Onward Together: Improving Lives for a Better Tomorrow " was a huge success thanks to the hard working members of Jamaica Awareness Association. The audience was serenaded by Sensi on the steel pan for the cocktail hour before being ushered into the beautifully decorated ballroom courtesy of Claudette Hemmings/Elegant Event Creations.
Master of Ceremonies for the evening was Ms. Adai Lamar of KJLH Los Angeles.
After the Invocation by Reverend Guy Leemhuis the National Anthem of the United States of America and Jamaica was sung by Ms. Sonja Cummings Price and Mr. Orlan Bailey respectively.
The guests then dined on a sumptuous meal.
In his welcome, President Patrick Williams reminded the audience that this was a fund raiser and the funds realized go toward the annual Medical and Education mission .Goals for the next two years among others: increase membership, increase Education outreach donations, encourage donations of medical equipment, offer more scholarships as well as create more opportunities for JAAC's exposure locally.
Dr. Daphne Ferguson DDS and Chris Spencer actor/ producer were honored for their support to JAAC over the years.
Raffle prizes were drawn with lucky guests winning Jamaican gifts baskets, spa baskets and sporting event tickets among others.
Dancing followed to music provided by Island Passion band and DJ Marcus B and Nigel of Red Alert Sound.
A very special thanks to our sponsors and guests. Without you this would not be possible.
Entertainment Sponsors
Roy McGarrell ; Nigel Smith ;Wi Jammin Caribbean Restaurant
Flyers & Ticket Sponsors
Hungry Joe's Market: Chester Martin
Raffle Prize Sponsors
Los Angeles Airport Marriott; Venice Linton; Shirlene Barnes; Yasmin Facey; Patrick Williams; Peta- Gay Gordon; Claudette Hecker; Bombay Market
Door Prize Sponsors
Yasmin Facey; Martine Hall; Patrick Williams; Jackie Small
Centerpieces
Claudette Hemmings; Diana McGowan
Other Sponsors
Fidella Dixon: LAX Physical Medicine
Program Book
Mel Manahan-Reyes: Sharon Small