Jamaica Awareness Association of California, (JAAC), formed in 1987, is organized and operated exclusively for charitable purposes. The organization seeks to make a positive difference in the lives of those in underserved areas and focuses on providing support to the health and education systems in Jamaica. Their goal is to increase educational opportunities for talented, at risk young people as well as help in developing effective healthcare delivery in Jamaica. JAAC projects are funded by fundraisers, donations and corporate sponsorships.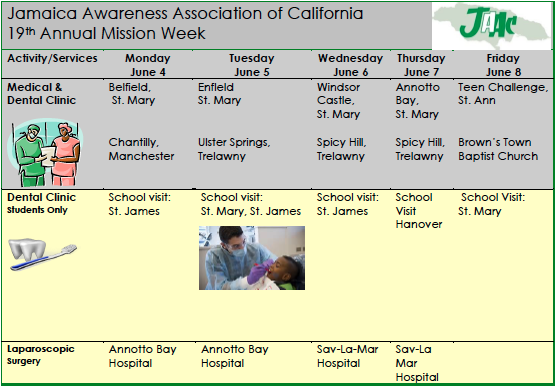 Medical and Dental Clinics
In the past, the clinics have attended to 1200 – 1800 patients per week. Members of the selected communities are often out very early and eager to get their "spot in line" to get free health screening and medication. Residents of the areas listed on the attached schedule are encouraged to come out and take advantage of the free medical and dental services in St. Mary and Trelawny.
Surgery
The surgical team, headed by Dr. Raymond Wedderburn, proudly boasts the 14th Annual Laparoscopic Surgery Seminar. The seminar will be held in Port Maria, St. Mary on Sunday, June 3rd. Doctors from across the island will converge in Annotto Bay Hospital for two days of hands on training following the seminar. The team will then head to Savanna-la-Mar to assist with laparoscopic training at the hospital. The collaboration with Annotto Bay Hospital has produced a unique rural Laparoscopic Surgery Training Center of which the organization is very proud.
Education Team
The Education team will be visiting several schools during the week which includes schools that are "JAAC Adopted Schools" as well as courtesy visits to the schools where we have scholarship recipients in attendance. The school visits will include:
Needs Assessment
Donation of back packs and schools supplies
Career talks
Tablet/laptop distribution
Behavioral health workshops
Technology workshops
Buff Bay Primary and Oracabessa Primary will have the added benefit of a dental team accompanying the education team on those visits.
This year the education team is taking a "maiden voyage" to the parish of Manchester and will spend Monday working in that parish.
Interviews for the Enid Davis Scholarship will take place in two phases this year and are being coordinated in conjunction with the local education officers. St. Mary 6th Graders will be interviewed on Wednesday, June 6th and applicants from St. Thomas and Portland will have their interview session on Thursday, June 7th. This is a 5 year renewable scholarship offered by the organization since 2003.